PRINT
Are you planning a trip to the pharmacy soon? Click the button to print your card today.

TEXT
Standing in line at the pharmacy? Click below to receive a text of your card information.

EMAIL
Thinking of a friend or family member who would benefit from saving up to 80% on prescriptions? Click below to email the card.
Use the Chicago Rx Card to save up to 80% on your prescriptions today.
The Chicago Rx Card is a free and easy way to save up to 80% on prescription drugs and also provides discounts on dental, vision, veterinarian, and lab and diabetes supplies/equipment. No registration or pre-qualification needed, simply click below to print, text, or email your card today. The Chicago Rx Card offers prescriptions savings options while improving health outcomes. The Chicago Rx Card is powered by Coast2Coast Rx Card. Coast2Coast Rx Card is owned and operated by Financial Marketing Concepts (FMC) click here for information.
OUR FREE PRESCRIPTION DISCOUNT CARD GIVES YOU ACCESS TO
Get up to 80% off drug prices!
FREE and easy to use.
No qualifying or personal information required.
Accepted at over 59,000 pharmacies nationwide.
Great for those who are uninsured or underinsured or if you're in the Medicare "Donut Hole"
Already have a Chicago CityKey?
You can simply show the RxBIN, RxGroup numbers on the back of your CityKey card to a pharmacist to receive discounts on your prescription medication.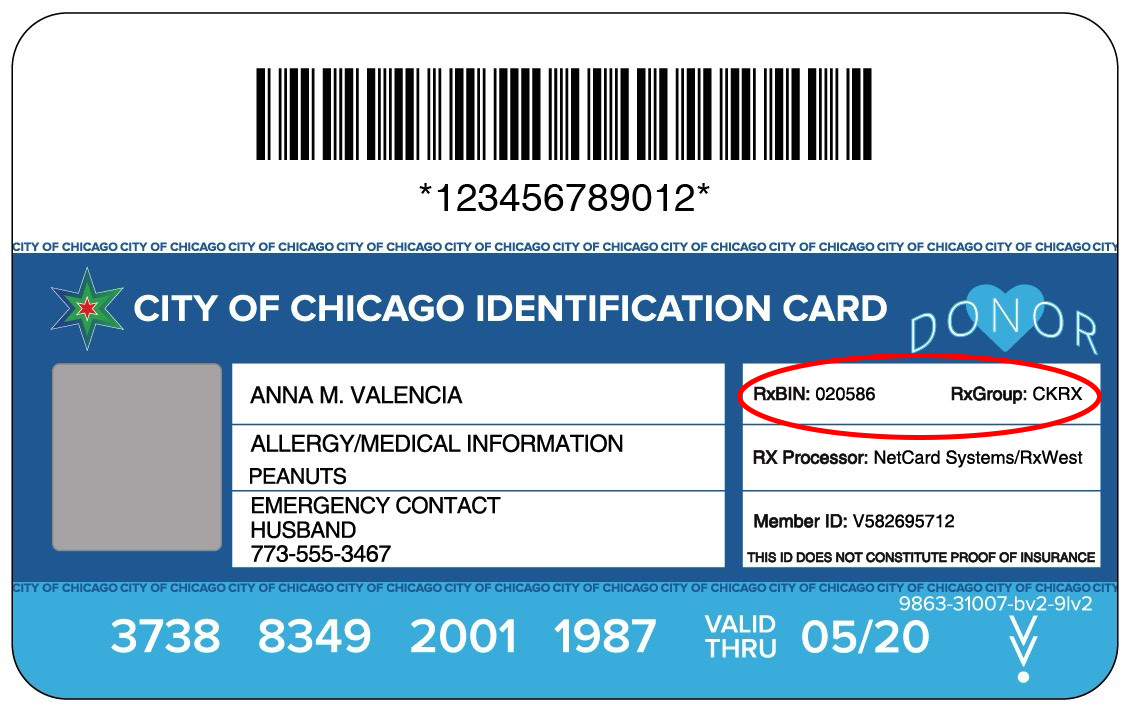 The CityKey is an optional, valid, government-issued ID card offered to all Chicago residents regardless of a person's health, age, immigration status, housing status, or income.
With your CityKey, you can start unlocking all of the great things Chicago has to offer. Your CityKey not only gives you the peace of mind that comes with having a government-issued ID, but it also gives you the opportunity to explore the incredible city you call home. Unlock Chicago and learn more about how you can get one by clicking here.